EHR | TELEHEALTH | TELEMEDICINE | HIE | ERX | MPM | RCM | RCM | HL7
Call Now For Details
Managed IT Services for
Healthcare
AlxTel is one of the nation's leading healthcare IT service providers. With more than three decades of experience providing healthcare, IT services AlxTel understands your unique technology needs to meet the growing demand for IT with flexible solutions that enable your hospital and empower your staff to deliver the level of care necessary to make a real difference in patient's lives.
AlxTel Transforms Your Care Delivery
We believe your energies are better served to help patients rather than running an IT department. That's why we offer a comprehensive set of managed healthcare IT services that will support your medical practice as you deliver outcomes across the care flow. Our consultants will examine your existing IT systems, make recommendations, and implement the right solutions for your unique needs. Improve your ability to deliver outstanding care while reducing downtime, streamlining operations, and improving efficiency.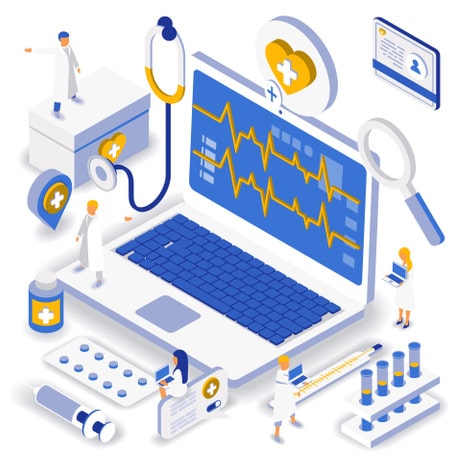 Role of AlxTel in Healthcare?
Healthcare IT service providers must align their services with strict compliance requirements to lend to the success of their healthcare organization. We offer a variety of healthcare IT services that help your organization to achieve and maintain compliance, including comprehensive IT assessments, strategic IT consulting, and a suite of security services. These healthcare IT services are fully customizable according to your unique need and align with industry best practices.
Custom Healthcare IT Solutions for your  Company
A reliable IT Support company that can keep up with your demands is essential. We understand that you work in a fast-paced industry, and require immediate support to fix issues whenever and wherever they happen. We are proud to support and ensure uptime of your systems, providing support for third-party applications, and will liaise with the vendor should any issues arise.
You can be assured that we will take the time to understand your specific business needs and devise a tailored solution that will enhance your productivity and help you to get your work done faster.
How our Healthcare IT Support Services Help Your Practice
In today's healthcare environment, your patients expect to have more access to your physicians than ever before. Patients increasingly want online tools to be able to check information, book appointments, and look at test results. Fulfilling these needs requires complex technological solutions that must undergo regular maintenance.
Our healthcare IT support services are the perfect way to ensure your platforms are all running smoothly, all the time. Control costs, increase security and enjoy a continually updated and optimized computing environment for maximum efficiency.
We'll take away the burden of managing your systems so that you can focus your attention on delivering health care.
Need support?  You are our priority, We've got you covered.
Rapid response time to service requests, responding to all customer feedback to get in touch.
Our goal is to supply you with the best possible customer service across all our products and solutions. We look forward to helping you make the most of your AlxTel platform.